Castor Oil Challenge Fall 2012
I was browsing through a natural site I like, Kinky Curly Coily Me!, and noticed she has a castor oil challenge, so I signed up (why not).
Castor oil is a triglyceride, comprised of fatty acids, 90% of which is ricinoleic acid.  Ricinoleic acid is a humectant, which means that it helps to pull moisture out of the atmosphere and into the skin and hair.  It has analgesic, anti-fungal, and anti-bacterial properties.  Castor oil is used as a home remedy for a number of ailments from arthritis and constipation to acne and ringworm.  Also, ricinoleic acid protects the scalp and hair from infections that can cause hair loss.
Castor oil is pretty viscous, so previously I was only using it sparingly on my edges.  But with this challenge I will use on my scalp, to seal my ends and possibly in other treatments.  Below is my starting length. Here's hoping for noticeable growth at the end of the challenge.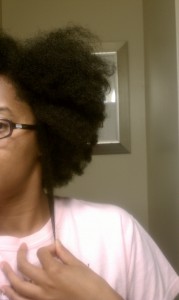 Let me know if you are in too!

Whit
Tags: Castor oil, Natural hair
Both comments and pings are currently closed.