Castor Oil Check In
Alright, so I think this is about week eight.  Here is a picture of my hair.  I had an earlier shot, but thought somehow I deleted ALL pics on my phone.  Turns out, my phone sometimes has all the pictures, others times none at all.  A mess.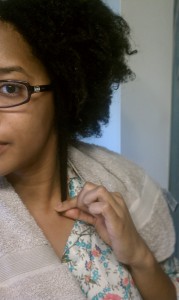 To be honest, I am still using the castor oil at least thrice weekly.  But have slacked on posting responses to the questions Kinky Kurly Coily Me! posts.  I don't know what happened.  I missed on check in and then all of a sudden it was 3 weeks later.  Oh well.
Thus far, I do not see a dramatic length difference (see pic from start of challenge here).  But the castor oil definitely softens my hair.  It feels great.  So for that benefit alone, I will continue to use regularly.
Tags: Castor oil, Natural hair
Both comments and pings are currently closed.